The Day of Schoolgoers and Keinonen
[FRI JUN 2 2017; B10; 'Koululaisten ja Keinosen päivä,' Toni Rasinkangas]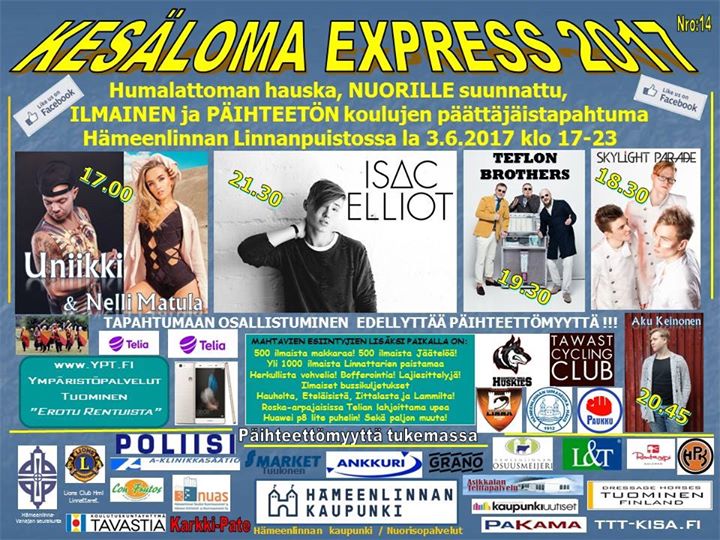 * Kesäloma Express once again brings some remarkable artists to Linnanpuisto. Aku Keinonen from Hämeenlinna will also be performing.
Kesäloma Express starts off the spring break for schoolgoers on Saturday in Linnanpuisto. Hämeenlinna resident Aku Keinonen takes the stage at 20:45.
Keinonen, who has studied in the Gymnasium of Kauriala and the Sibelius Academy, bravely contacted the organizer of the event, and was accepted to perform in the event.
Keinonen has previously performed with the Sibelius Academy brass bands, and Big Band.
Now he will be performing solo for the first time, to a large audience, and following such big names. Keinonen is excited and enthusiastic about his coming gig.
– I've been practicing by performing at the recess café. I've performed with the Academy big bands, but this my first time doing a troubadour act in a large concert.
Keinonen has not yet made his own compositions. His Saturday set will include cover songs from guitar guru Eric Clapton as well as from singer-songwriter Ed Sheeran.
– I'm quite nervous, but this is what I like to do. It'll be alright once I get my guitar in my hands, says Keinonen, who intends to go to northern Italy as an exchange student in the Fall.
KESÄLOMA EXPRESS
The spring break event in Linnanpuisto on Saturday June 3rd, at 17:00-23:00.
17:00 – Uniikki & Nelli Matula
18:30 – Skylight Parade
21:30 – Isac Elliot
19:30 – Teflon Brothers
20:45 – Aku Keinonen